THE FIRSTS - EDMONIA LEWIS
2019
In September I was at a one-week artist residency at the MACRO - Museum of Contemporary Art Rome as part of their 15 months-long art festival ASILO. My stay there was curated by Rome based artist Riikka Vainio and curator Krista Mikkola as part of their "Suomingorgo" project which invited Finnish artists doing -and showing work around Rome during one month.
For the first time, I made a stapled portrait (The Firsts - Edmonia Lewis (1844–1907), as a durational performance from 24.-29.9.2019 within the museum's dedicated Atelier #4.
Edmonia Lewis (1844–1907) was a queer African-American-Haitian Ojibwa sculptress working with marble in Neoclassical-style portraying mostly people from the African diaspora and indigenous peoples. She was one of the first black woman in Rome who became an internationally noted artist, despite being fetishized and tokenized by the locals. Edmonia was born free in New York and spent most of her adult life in Rome. She became the first African-American and Native-American female artist to gain international recognition. In the US this wouldn't have been possible because she would have been dependent on abolitionist patronage.
I got to know about Edmonia through my artist friend, the Canadian-French-Haitian and Paris based musician and singer-songwriter Melissa Laveaux who composed music inspired by Edmonia while on a residency in Rome. She said that the both got so much in common except that Edmonia was in Rome 150 years earlier.
Our doings celebrate Edmonia's herstory and we look forward to merging our works about her. The making of this portrait was filmed by artist Petri Saarikko who will make a video, with Melissa's song as the soundtrack.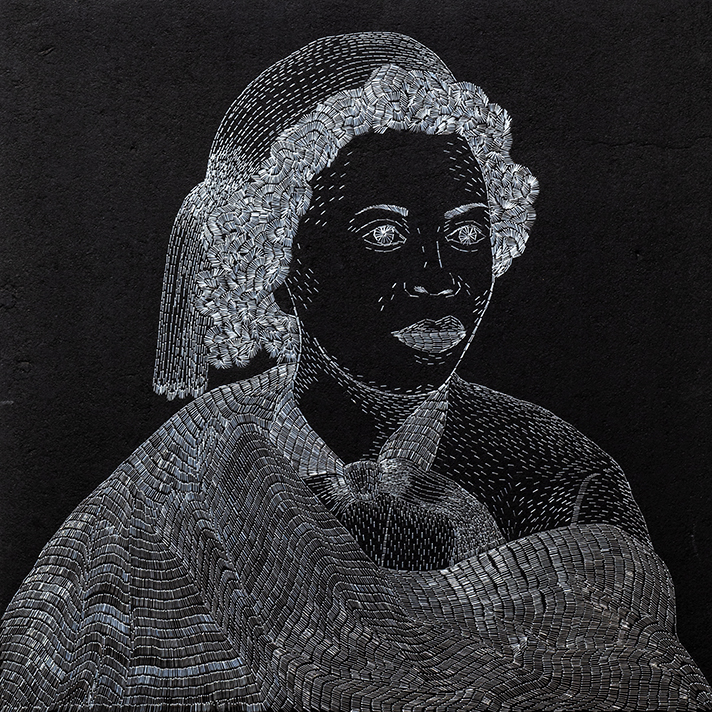 Sasha Huber,
The Firsts - Edmonia Lewis
, first black female artist in Rome from 1866, 100 x 100 cm, metal staples on painted acoustic board, 2019